Disneyland After Dark events are a unique experience for all Disney fans happening at Disneyland Resort in Anaheim, California! In this post, we will answer all questions you might have about Disneyland After Dark so you are ready for the one!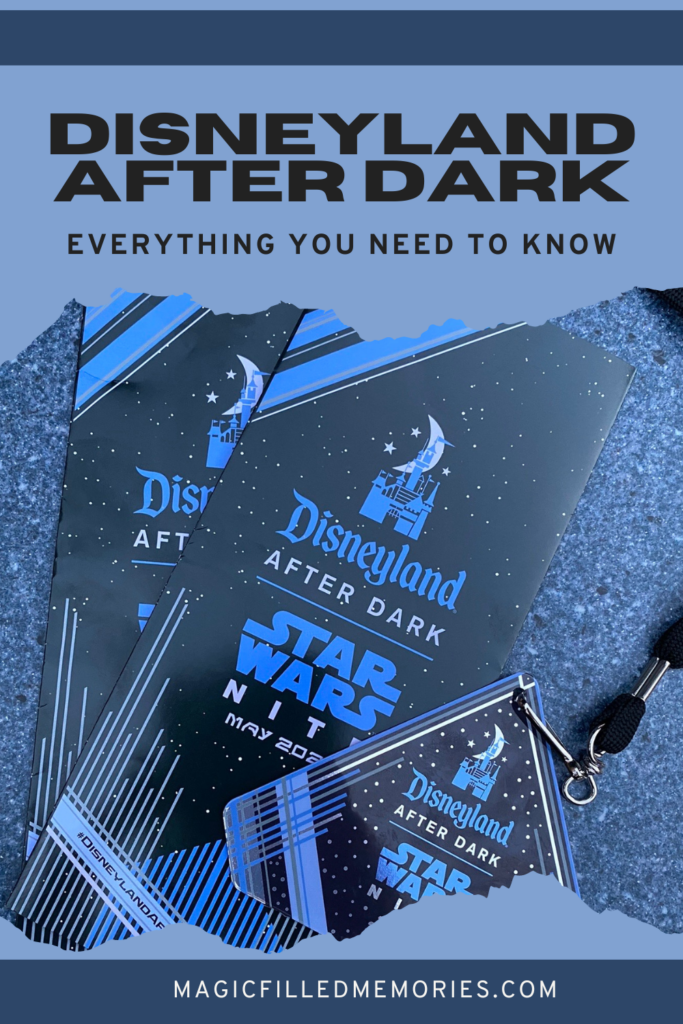 What is Disneyland After Dark?
Disneyland After Dark are themed ticketed events that happen after Disneyland Park closes to the public. In the past, there have been events at both Disneyland and Disney California Adventure, but so far they seem to be most often at Disneyland. The events always have different themes like Star Wars Nite or Princess Nite and they have monthly themes like Sweethearts Nite in February and Pride Nite in June.
Disneyland After Dark events has unique character experiences, special themed food and drinks, fun photo ops, entertainment such as dance parties, and so much more! One of our favorite things about these events is the low wait times to get onto rides. A lot of rides will be "walk-ons" (meaning little to no wait), especially toward the end of the event.
How Much Does Disneyland After Dark Cost?
The tickets for each after-hours event can vary. For the 2023 events, the tickets can be as low as $125 and as high as $165. It depends on two things. The first one is which event it is. Star Wars Nite is more expensive than Thownback Nite because Star Wars Nite is more in demand. The second one is what day the event is on. Events like Sweethearts Nite will charge a lower price on the weekday but raise the price on the weekends and Valentine's Day.
With all that being said, an event like Pride Nite is $139 regardless of the night you pick. This is rare. Most events follow what we have said above.
How Long Are Disneyland After Dark Events?
Disneyland After Dark parties are 4 hours long, usually starting at 9 pm and ending at 1 am. But, with your ticket, you are able to get into the park prior to the start time — usually at 6 pm. This means that altogether, your ticket is your pass to about 7 hours worth of park fun! If you aren't already in the park that day, you'll find that a couple of the park entrance gates are dedicated exclusively to admitting attendees of the Disney After Dark event, starting at 6 pm (or whatever time early entry is).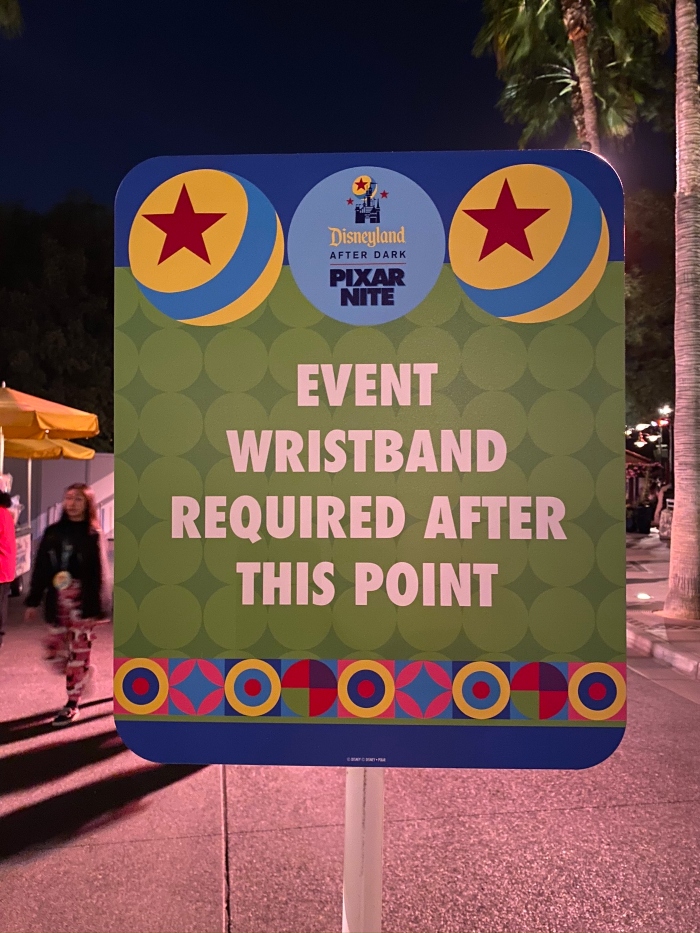 Does Disneyland Close Early On Disneyland After Dark Event Days?
Yes, Disneyland Park will usually close at 8 o'clock which is an hour before the event. Cast members will be checking to see if you have your lanyards or wristbands close to the start of the event.
What's Free at Disneyland After Dark Events?
At the event, you will get a commemorative credential and a lanyard. You also get unlimited downloads on the Disney PhotoPass during the event, which includes character meetings and photo ops.
At some of the events, we've received a small item when leaving the event. After Star Wars Nite 2022, we were given a set of Disney+ Boba Fett & Mandalorian mini buttons. Another time we were given a pack of small postcards. I don't believe all of the events give away something though.
Magic Key Holders: During some of the events, you can get a special keepsake! In the past, they have given out magnets, buttons, or art prints! Keep an eye on Disneyland's Magic Key Instagram to see if the event you are going to has a free item!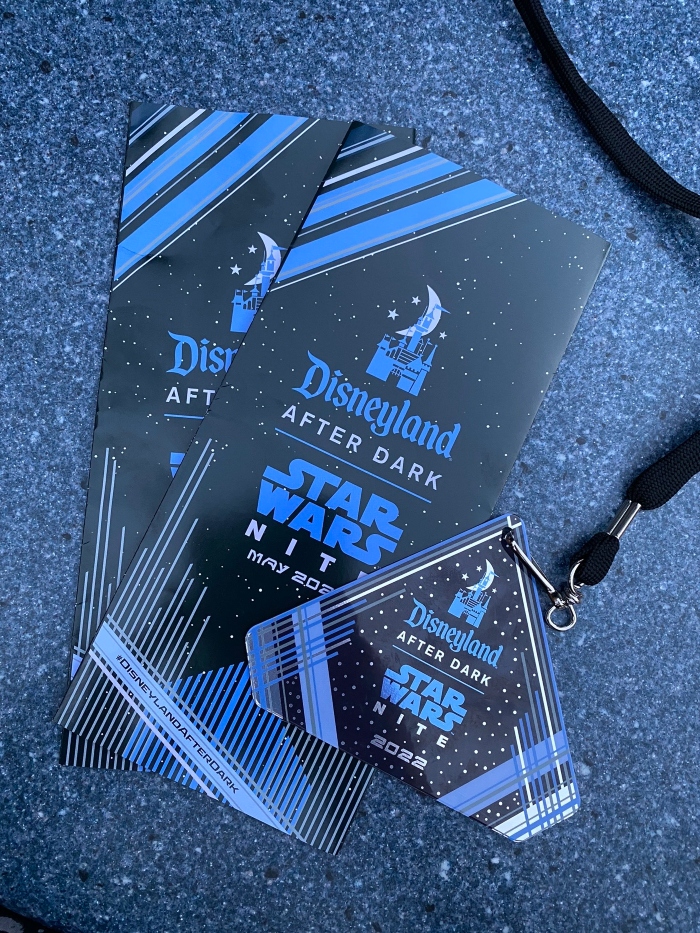 What Kind of Disneyland After Dark is There?
Star Wars Nite and Sweethearts Nite have been happening every year (so far). In 2023 for the first time, they did a Princess Nite, Throwback Nite (for the 50s & 60s), and Pride Nite. In the past, they have done the 80s & 90s Nite, Villians Nite, and Pixar Nite.
Can Adults Wear Costumes at the Event?
Yes, they can – and it's even encouraged! You may know that most of the time, adults can't wear costumes to Disney parks. Well, everyone is allowed to wear costumes during the Disneyland After Dark events. The costumes must be family-friendly and you can not carry a fake weapon. For more info on Disney Parks costumes, click here.
Are the Rides Open During Disneyland After Dark?
Yes, almost all of the rides are operating as normal, but some will be closed. For example, during Pride Nite After Dark event, Mark Twain Riverboat, Mickey's Toontown, Peter Pan's Flight, and Star Wars: Rise of the Resistance will be closed. Rides that are already closed for refurbishment won't be available either. Check the Disneyland website or the Disneyland app to see what will be closed that night.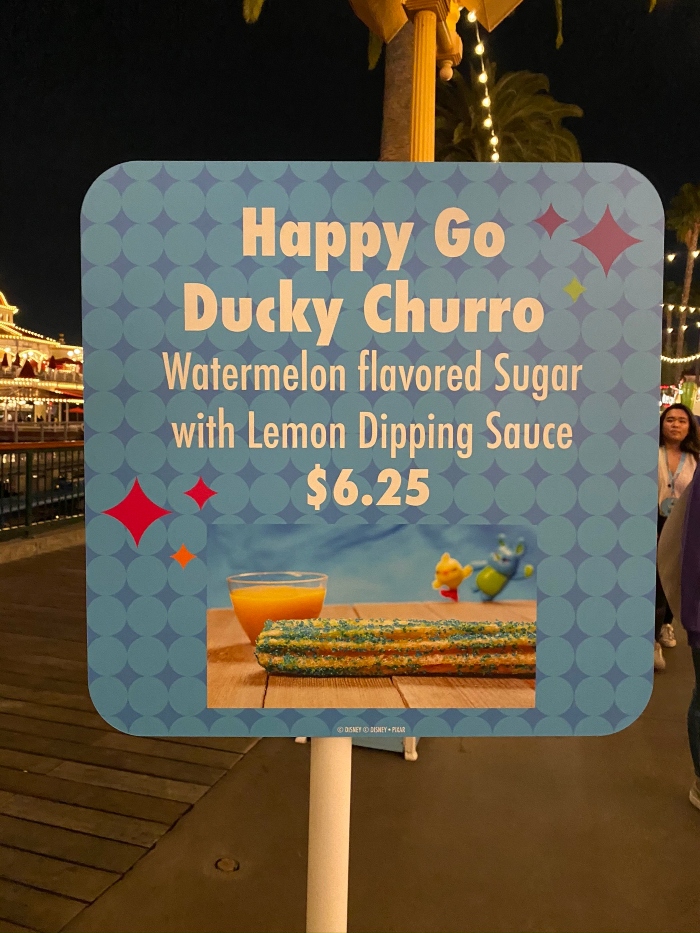 Does Disneyland After Dark Have Exclusive Merchandise?
Every event is different but, yes, they do! Some events have will t-shirts, tumblers, magnets, or even popcorn buckets! When you enter the event, they will give you a guide and it will give you a sneak peek at the merchandise that you can buy! If you are not going on the first day of the event, keep an eye out for Disney influencers on Instagram and YouTube for sneak peeks of the exclusive merchandise!
On top of the exclusive merchandise, there will also be exclusive food and drinks at every event.
Can I Get into a Disneyland After Dark Event with my Magic Key Pass?
No, you will still need to buy a separate ticket to the event, even if you have a Magic Key Pass. There is also no discount on your event ticket with a Magic Key Pass.
Can I Get a Refund on My Disneyland After Dark ticket?
No, you can not get a refund on your Disneyland After Dark ticket. You also can't sell or transfer your ticket to someone else. They will cancel your ticket without a refund if they find out you did either one of those things.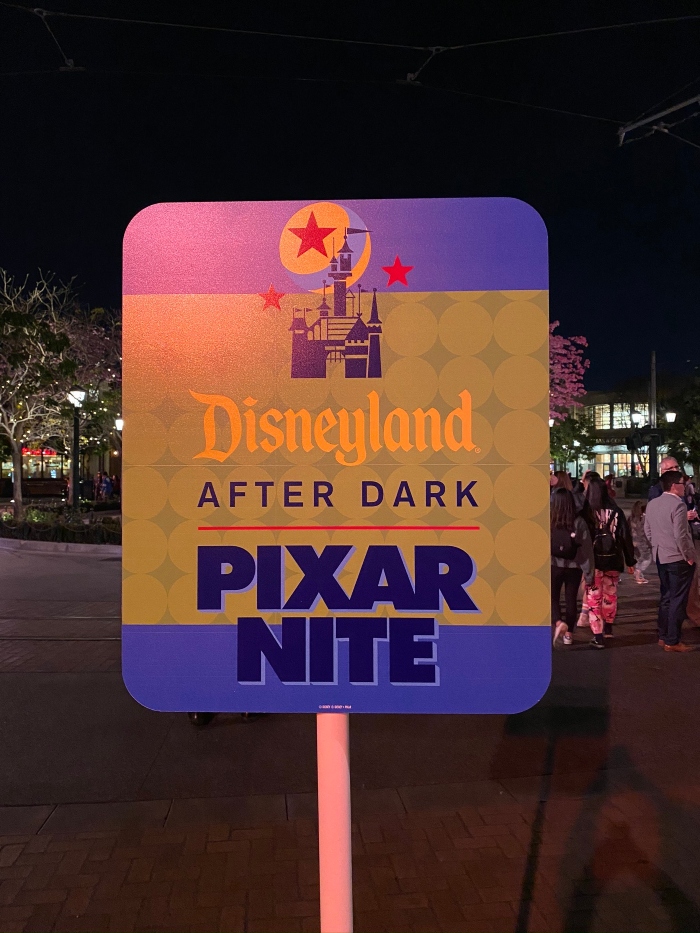 Is Disneyland After Dark Worth It?
We think it is totally worth it if you're excited about the theme of the event! So far we've attended Pixar Nite, 80's Nite, and Star Wars Nite because those were themes we were most interested in. We loved each event with Disneyland's 80's Nite being our favorite.
Here are five reasons why we think Disney's After Hours Events are worth the ticket price!
Less Busy: The park will not be as busy as it normally is. It's not common to be in an area of the park with no one or very few people. We've eaten at Disneyland restaurants with almost no one else, been one of the few people walking in a certain area, and the wonderful thing of all — no wait for bathrooms! Being in a Disney bathroom with no one else is the best!
Riding all the Rides: With it not being too busy, the rides will normally have low wait times or will be a walk-on. This is a perfect time to ride any of the new rides or ones that normally have long wait times.
Fun Event-Themed Food and Drinks: You will get items that are not normally there like unique sandwiches, funnel cakes, shakes, and more!
Rare Disney Character Sightings: During these events, Disneyland will bring out rare fan-favorite characters that you can take photos with. Like R2-D2 and C-3PO for Star Wars Nite and Rapunzel and Flynn Rider for Sweethearts Nite. REMEMBER: The lines to meet these characters will be long. Sadly, there is a good chance you will not be able to see every single character so I would pick your top favorites and see them first.
The Entertainment: Every event is different so some might have fireworks, a light show, live bands, or DJ dance parties, but there is so much fun to be had no matter what they have! Also, they will play themed music throughout that park.
If you don't have a Magic Key pass, the event is even more worth it. On top of everything we said above, you get a ticket to the park!
Attend The Next Disneyland After Dark Party!
Now that you know all about Disneyland After Dark event at Disneyland Resort Anaheim, I bet you're wanting to attend the next one! To find out when the next one is, be sure to check the Disneyland App or visit the main Disneyland After Dark event page. Dates are announced about two to four months before the actual event and the tickets will normally go on sale very soon after that. Magic Key Holders will get an opportunity to purchase their tickets during a pre-sale ticket sale before the general public, but there will still be plenty of tickets for the general ticket sale if you don't have a Magic Key.
What Disneyland After Dark event would you love to attend??
If you've already attended one, which one did you attend?